Crowns and Bridges In Noosa
Our practice combines cosmetic, durable materials with affordability for the best results. When your family needs to repair the damage done by wear, decay or accidents, a custom crown or bridge could be your best solution.
Each of our crowns and bridges is made of custom-matched ceramics for both aesthetics and durability. That way your smile looks great and you stay within budget, too!
NEW PATIENTS »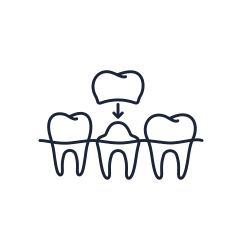 Full Coverage Dental Crowns
Crowns (sometimes called "caps") cover your entire visible tooth, stopping right along the gumlines. They're used to preserve teeth with severe structural damage, usually caused by cavities or cracks. If you replace a missing tooth with a dental implant, you will need a crown to fill in the area above the gums.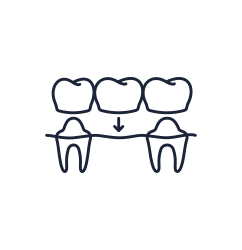 Bridges for Missing Teeth
In cases where you have one or two missing teeth, a bridge can span the width of the space to fill in the area. Either end is attached to a pair of healthy supporting teeth or dental implants. A bridge is a fixed alternative to removable devices, such as a partial denture.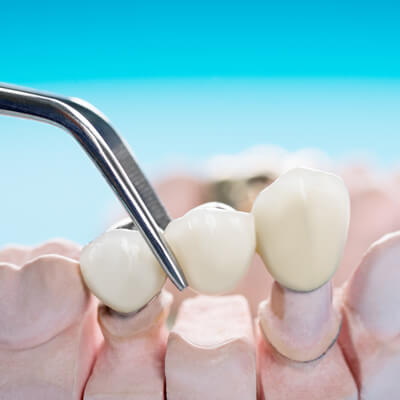 Daily Maintenance
Floss the margins of your crowns daily, since plaque biofilm tends to accumulate in these areas first. Although your entire tooth is covered, there is a small area that could still potentially succumb to decay. Flossing extends the life of your tooth and the fixed restoration.
Take care to clean under and around your bridge daily, as the supporting teeth are prone to decay and gum disease if oral hygiene isn't a priority.
A Two-Step Treatment Experience
Getting crown or bridge treatment requires two visits, approximately two weeks apart. At the first appointment, we will numb and prep the supporting tooth so that there is enough clearance for a fixed restoration to comfortably slip over them. Then we'll take an impression and send it to our lab, where your permanent restoration is crafted by hand. In the meantime, you'll wear a temporary restoration to minimise any sensitivity.
About two weeks later, your permanent restoration will be ready for delivery. We'll remove your temporary crowns and permanently bond the fixed prosthesis in place. Crowns or bridges set on top of dental implants are installed on top of an abutment, which attaches to the implant itself.
Which One Is Right for You?
Schedule an exam with our family practice to discuss your oral health needs and concerns. We'll help you find the right solution for your budget! Contact Morton Dental today to book an appointment.
* Any surgical or invasive procedure carries risks. Before proceeding, you should seek a second opinion from an appropriately qualified health practitioner.

Crowns and Bridges Noosa Heads, Noosa Junction, Noosaville, QLD | (07) 5455 3577