Fillings In Noosa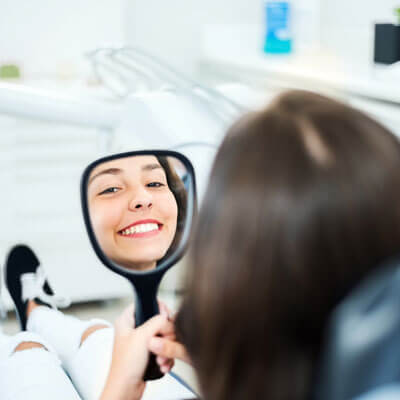 Cavities are bacterial infections inside your teeth. If left alone, they gradually expand further into your tooth and adjacent teeth.
To preserve as much healthy enamel as possible, we recommend treating tooth decay early with a minimally invasive white filling.
White (composite) fillings are matched to your natural teeth, making them seem invisible because they blend in with the structures around them. They're a great alternative to silver amalgam restorations, especially when treating teeth visible when you smile. Plus, they're entirely free of mercury.
NEW PATIENTS »

Do I Have a Cavity?
Tooth decay is usually obvious once it has reached a severe stage. The key is to catch it early enough that we can fill your tooth before pain or other symptoms start to exist. Smaller fillings aren't just better for your teeth; they're also more affordable!
Let us know if you're currently experiencing any of the following tooth decay symptoms:
Sensitivity to temperature changes
Pain when chewing or eating certain types of foods
A sharp or dull ache in a specific tooth
Visible discolouration
Feeling a rough edge with your tongue
Feeling food getting caught between or inside your teeth
Floss catching or shredding around a tooth
Localised areas where your gums bleed easily
The only way to know whether you have a cavity is for our dentist to examine the tooth and take an X-ray of the area. In the image, we can see into the tooth structures to determine if there is any damage not visible from the outside. From there, we'll assess the extent of the decay and recommend an appropriate filling.
Reducing the Cost of Your Dental Care
Small white fillings are an affordable way to protect your smile's health and avoid more intensive treatments in the future. When left untreated, active decay will ultimately expand to the point where a crown or root canal is necessary to treat it.
Our affordable pricing allows you to get the care your family needs in the timeliest fashion. Plus, we offer flexible payment options to help you fit necessary treatment into your budget, so that you don't have to put it off longer than you ought to.
Proactive Dental Care
Find out if you have a cavity, how to reverse decay before it starts, and treat active lesions with small white fillings that look and feel great. Contact Morton Dental today to book your fillings appointment.
* Any surgical or invasive procedure carries risks. Before proceeding, you should seek a second opinion from an appropriately qualified health practitioner.

Fillings Noosa Heads, Noosa Junction, Noosaville, QLD | (07) 5455 3577