Meet Dr Stefano Burti (Dentist)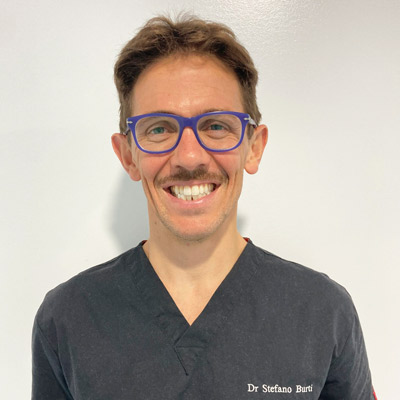 Dr Stefano is a highly skilled dentist with a passion for providing exceptional dental care. He began his dental career in Italy in 1998, where he completed secondary school and obtained a qualification as a dental technician. In 2010, he earned both a B.D.S. and a Master of Dentistry from the University of Insubria (Varese).
International Experience & Qualifications
After gaining valuable experience working in Italy for two years, Dr Stefano embarked on a journey to Australia in 2011 to further expand his knowledge and skills. In 2016, he successfully got his dentistry qualification recognised by the Australian Dental Council.
Since then, he has been an esteemed member of the Australian Dental Association, committed to delivering top-quality dental care to all his patients.
Patient-Centred Approach
Dr Stefano firmly believes that prevention is better than cure and emphasises this philosophy in his practice. "I take the time to explain different dental treatments, utilising photos to help patients understand their options." By working closely with each individual, Dr Stefano ensures he develops personalised treatment plans to best address their specific needs and goals.
Finding His Forever Home
In 2018, Dr Stefano moved to Noosa on the Sunshine Coast, seeking a better family lifestyle and a warmer climate. He has since fallen in love with the community and considers it his forever home.
Book an Appointment
Contact us today to schedule an appointment with Dr Stefano, and experience the compassionate and professional dental care you deserve.
CONTACT US »
* Any surgical or invasive procedure carries risks. Before proceeding, you should seek a second opinion from an appropriately qualified health practitioner.

Dr Stefano Burti | (07) 5455 3577