Preventative Dentistry in Noosa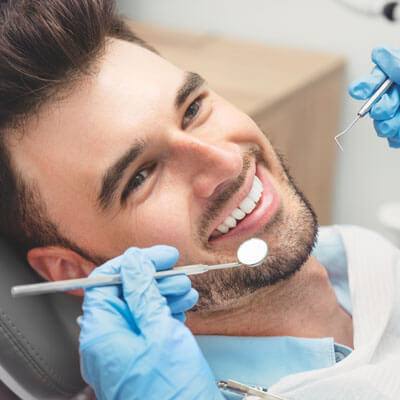 Preventative oral healthcare aims to avoid, reverse and address dental problems while they're in the earliest stages. With a great dental team on your side and proven oral hygiene strategies, you and your family can enjoy healthy teeth that last a lifetime.
Most Dental Problems Are Preventable
Gum disease and tooth decay are some of the biggest oral health challenges families face. Fortunately, they're both preventable. But it's important to have an excellent family dentist and oral health therapist on your side, screening for symptoms before they're noticeable.
NEW PATIENTS »

During your checkups, we'll evaluate at-risk areas, offer advice on how to reverse early symptoms, and more. That way, you have the resources necessary to stop cavities and gum problems before they start forming.
Our Preventative Services
Book a checkup every six months to have your teeth cleaned and screened for early signs of disease. Regular preventative care is one of the most important steps in avoiding costly and extensive dental work.
How would you like to prevent cavities before they start? Fissure sealants block decay-causing bacteria in some of your smile's most susceptible areas. We recommend sealants on your child's 6- and 12-year molars, which erupt around each of those respective ages.
Get tips and strategies on how great home care can make all the difference in the health of your smile's future. Customised advice will help you lower your risk of gum disease, cavities and tooth loss.
How Often Should
I See a Dentist?
We recommend checkups every six months if your teeth and gums are healthy. At this frequency, we can step in early enough should buildup start to accumulate or enamel demineralisation begin. For people recovering from gum disease, we advise making an appointment every 3-4 months to prevent relapse and unwanted bone loss.
More Affordable
Dental Care
The best way to lower the cost of your dental care is to take advantage of preventative care strategies beginning at an early age. Our family-friendly practice offers comprehensive care for all individuals. And when you need treatment, we have affordable prices and flexible payment plans that fit your budget.
Make Your Next Appointment
Contact Morton Dental today to schedule an appointment for preventative dentistry. We offer flexible scheduling options that fit your lifestyle!
* Any surgical or invasive procedure carries risks. Before proceeding, you should seek a second opinion from an appropriately qualified health practitioner.

Preventive Dentistry Noosa Heads, Noosa Junction, Noosaville, QLD | (07) 5455 3577