Morton Dental Services
See How We Can Help You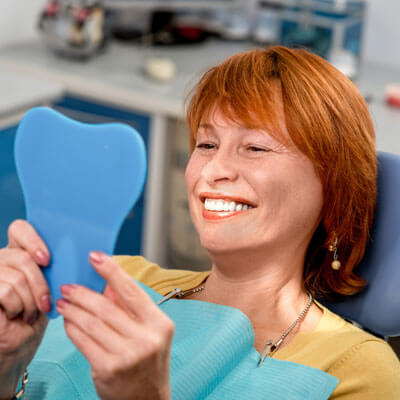 We love what we do, and we pass that joy on to our patients. When you need comprehensive, affordable dentistry in one place, we are ready to help! Our in-house services ensure that everyone in your household can access the care their smile needs without being referred elsewhere. We offer the following:
NEW PATIENTS »


Cosmetic Dentistry
A smile makeover doesn't have to break the bank. Ask about our affordable aesthetic services to find a solution that fits your budget.
Dental Crowns
Protective ceramic crowns are durable and protect your smile's appearance. We recommend full coverage restorations if you've had a large cavity, fracture or root canal.

Dental Implants
Looking for a permanent tooth replacement treatment? Investing in a dental implant gives you a restoration that mimics the design of a natural tooth. They can be used in pairs to replace multiple teeth at a time.
Dentures
You can affordably replace all your missing teeth at one time. Full and partial dentures are a reliable and convenient way to afford full mouth rehabilitation.

Emergency Dental Care
Same-day emergency dental treatments are available, even if you don't have insurance. Conveniently finance your care plan to get started straightaway.
Fissure Sealants
Stop cavities before they start. Protective sealants make it easier to keep teeth clean, lowering your risk of developing decay in hard-to-reach areas of your mouth.

Invisalign Treatment
Straightening your teeth can lower your risk of cavities and gum disease. In-house Invisalign treatment makes it convenient and affordable for our patients to enjoy the advantages of a properly aligned smile.
Teeth Whitening
Professional teeth whitening offers the best return on investment compared to store-bought products. It's an affordable and fast way to help your smile look its best.

Veneers
Dramatically make your teeth whiter and straighter, by having custom porcelain veneers designed to fit over them.
Check-up and Cleans
As a family-orientated practice, we make it a mission to provide gentle, prevention-based care to people of all ages. It starts with regular scales and cleans with our oral health therapist.

Get a Customised Care Plan
What smile goals do you have? Do you have a budget in mind? We'll review all the options available to help you create a plan that's unique to your specific needs. As in-network providers with flexible financing options, you'll find our services are some of the most affordable in town.
* Any surgical or invasive procedure carries risks. Before proceeding, you should seek a second opinion from an appropriately qualified health practitioner.

Morton Dental Services | (07) 5455 3577